Being Joint Venture of BHEL and the global technology leader General Electric (GE), BGGTS offers One Stop OEM Solution with the World Class Perfection to its valued customers for renovating and modernizing of ageing Gas Turbine power plants.
BGGTS delivers customized solutions for improvement of Gas Turbine performance viz.output increase & heat rate improvement, emission controls & integrated plant control systems thereby adding value for customer by greater reliability, extended availability & increased performance.
BGGTS through its digitization measure offers Onsite Monitoring Packages to analyze operational profiles, generating units performance, does online monitoring to advise performance improvement, early warning of faults and root cause analysis of occurred faults.
BGGTS caters to Frame – 3, 5, 6B, 6FA & 9E Gas Turbines based on GE design.

One Stop OEM Solution... 
                             Unmatched technology...
Product Line
No doubt BGGTS's product lines includes standard "Replacement In Kind" (RIK) Capital & H/W's for all the frame.
But with the increasing customer demand to maximize benefits from their existing Gas Turbine fleets, GE has rolled-out through BGGTS latest technology replacement parts for various frames with benefits of increased Output, improved Heat Rate (fuel efficient), extended life cycle & Emission Control. BGGTS is fast moving towards digitization of its expertise to give better value for its customers.
Frame 5 Performance Enhancement Kit (PEK)
Existing PA-PN/T units can be upgraded with PEK to benefit with higher firing temperature capability or increased maintenance intervals
PEK Parts
Cap & liner: new improved EXTENDORTM PEK design
Transition piece: new improved EXTENDORTM PEK design
1st Stage Bucket: new material
1st Stage Nozzle: cooling improvement & new casting
Supporting ring: design modification (nozzle & wheel cooling improvement
HPP with brush seal: brush seal in the HPP reduces cooling air and makes the seal more robust against rubs
Customer Value
Output power increase +6%
MTBM = 35 khrs
one shutdowns in a major to major span
~6 days/yr shutdown
8 years MI to MI
Availability +1,3 pts
Frame 6B ExtendorTM Performance Improvement Package (PIP)
Latest Combustion & Hot Gas Paths uprate parts enables increasing the firing temperature of your Frame 6B with the GE firing temperature uprates and OpFlex* software enhancements thereby customer will have ability to reposition the unit for future growth and compliance to regulatory changes,
Remarkable Performance improvements possible….
gas turbine output increased up to ~13.17%†
gas turbine heat rate improvement up to ~4.35%†
larger operating range within emission compliance
extended maintenance interval is possible.
Frame 6FA Advance Gas Path (AGP) package
Parts + Software package giving
Cooling & sealing optimization
Improved coating w/TfIncrease
Customer benefits
Output/Heat rate Improvement
32K/900 CI, HGP Interval
DLN2.6 w/ 15ppm NOx QL
OpFlex capability
Improved Performance…very reliable…flexible…efficient
Frame 9E Advance Gas Path (AGP) package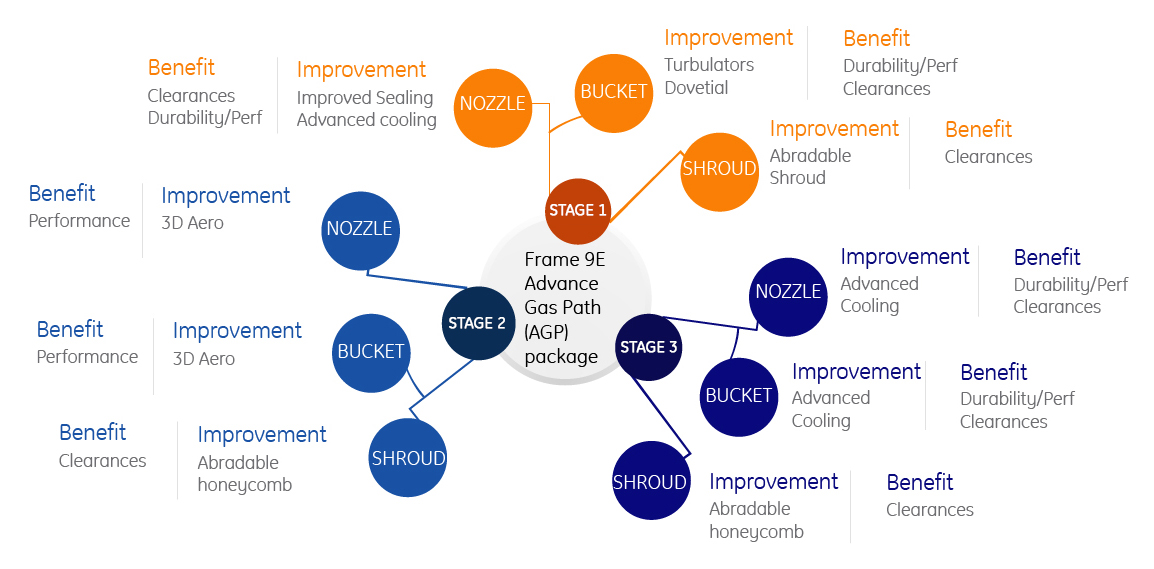 As a result of applying GE's Advanced Gas Path (AGP) upgrade on 9E 3- series gas turbine, you have the ability to increase your component parts life durability, improve cooling/sealing and increase performance, in both simple cycle and combined cycle applications, resulting in
Increased Output
Heat Rate Improvement
Higher Exhaust Energy
Increased Revenue
Significant fuel cost reduction